13 June 2017
We arrived back in Lisbon after a two-hour flight from Lyon, tired and looking forward to a rest. There were huge delays at Lyon airport with long queues at passport control. We were told some kind of security operation was taking place but in my opinion the airport is way too small to handle demand, considering Lyon is France's third biggest city.
Lisbon was gloriously warm and cheerful, basking in the hot summer sun. And to add to the delight of being back, it was cherry season! Street vendors could be seen all around town selling the luscious fruit.
Cherries are grown all over the country and demand is high, both as an excellent fruit and as the main ingredient for the famous cherry liquor 'Ginja'.
Lisbon - East View
Lisbon - West/Central view
First stroll down to Praça Do Comercio for a look at the mighty river Tejo
1- Rua Augusta ends at the arch 2- Miss P and her fave snack
3- A view of the Mercado Da Ribeira market.
The scrumptious Portuguese Cherry
The monument at Marques De Pombal depicting scenes of the great earthquake and tsunami
of 1755, which destroyed half of Lisbon and killed tens of thousands of people
No comment required - a typical Lisbon sky
Outside Mercado Da Ribeira
The north bank of the river Tejo, in the Parque Das Naçoes area
Parque das Naçoes is the modern part of East Lisbon, by the Vasco Da Gama bridge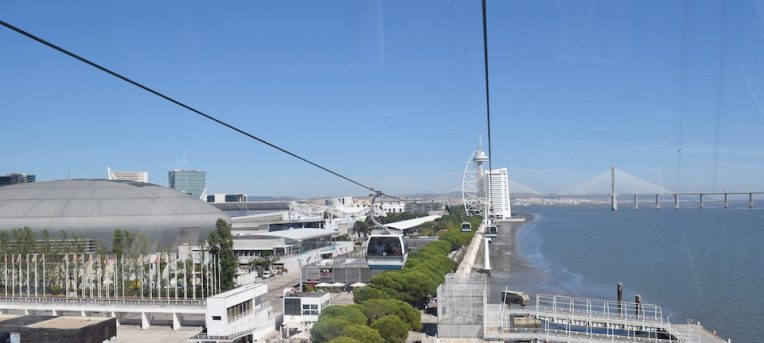 Vasco Da Gama bridge in the background
On 19th June Miss P returned to Brasilia to spend time with her family and I to London for the self-same reason. Two weeks later I joined her.
3rd July, Brasilia
This is my third visit to Brasilia in two years and although I am getting used to it's concrete and modern people-unfriendly layout, it's still a visit of necessity rather than pleasure. It's safe to say Brasilia will never be on the regular tourist itinerary. It's not the kind of place to take strolls in the warm evenings and in some parts, not even in daytime. Public transport is scarce and only for those who have no other choice. Those who can afford drive everywhere and park in secure areas. Although the city has a much lower crime rate than most others in this vast nation, it's still not the place to drop your guard and be complacent. The shopping malls are always busy, indicating a population with little else to do but shop. A city built from scratch in the late 50s to become the country's capital, Brasilia is strictly for government purposes only. I will report in full on a future post dedicated solely to Brazil.
Lake Paranoa - view from the Bierfass Restaurant - Pontão.
My favourite part of town
Mormai Surf Bar - Pontão. Another bar we frequently visit
For a good night's entertainment I suggest the Emporio Santo Antonio. This huge
bar/restaurant has a permanent stage for the nightly live bands
Boat trip on the lake with Miss P's mum and nieces
We had our engagement celebration dinner at Restaurante Dom Francisco, Asa Sul...
...and flew south next day to Porto Alegre. From there we had a
further two hour bus trip to the pretty alpine town of Gramado.
Gramado is a beautiful, clean, affluent, European-like town and rather chilly!
Breathtaking natural beauty


A Steam Train on a tourist route linking three small towns



As I prepare to return to London, a few days ahead of Miss P, I know I'll take with me fond memories of a Brazil I didn't know existed, high up on the mountais of Rio Grande Do Sul.

If Miss P and I ever need to spend multiple weeks in Brazil again, we know exactly where to stay. Especially so if around Christmas time.
Ciao for now